We here at the office are all fans of the Star Wars saga (except for Jon, who's a Trekkie) so it was with great interest that we received an order from the people at www.jedinews.co.uk, a site "created for the purpose of bringing the latest Star Wars news and views to the multitudes of fans in the UK and is a site for the fans, by the fans".
Their big news is that in celebration of the films' 30th anniversary there will, for the first time outside the US, be an official LucasArts licensed Star Wars convention taking place at London's ExCeL exhibition venue in the UK from July 13th to 15th 2007.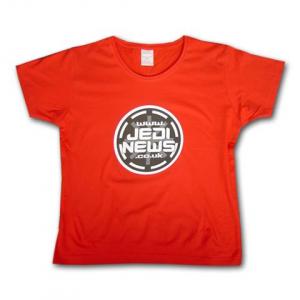 The t-shirt ordered
Apparently Jedinews are one of only 12 fan sites Europewide to have a stall at the eagerly anticipated convention, and wanted some t-shirts to display their logo with pride. We hope they will continue to wear their t-shirts under any costumes worn for upcoming convention, be they Jedi robes or Imperial uniforms – send us some pictures if you can guys!
If you want a logo printed or embroidered on some t-shirts, polo-shirts, sweaters or caps it couldn't be easier, just visit our homepage.