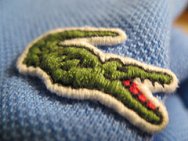 In one of the David and Goliath battles that are becoming increasingly common as brands globalise, French fashion house Lacoste has lost a court battle against a Gloucestershire dental practice, after arguing in court that the surgery's use of a crocodile logo was too similar to the famous trademark found on its shirts, T-shirts and other merchandise.
The case was first heard in May, when a judge ruled in favour of dentists Tim Rumney and Simon Moore.  Lacoste appealed and the case was heard again by a judge at the Intellection Property Office in London – heard, and rejected.
Responding to the appeal, the judge said it was unlikely for consumers to be confused by the logo. "Dental services are so different to clothing that the average customer of goods or services in question, who is reasonably well informed and reasonably observant and circumspect, would not make that mistake".
Lacoste was ordered to pay £1,000 towards the dental practice's legal fees after the initial hearing and must now pay a further £450 towards the costs of the second.
This kind of protection of copyright image, often seen as 'bullying' by smaller firms or individuals who are told they have infringed a major 'mark' will almost certainly increase in the future, because large companies have often been allowed a very wide latitude in copyright – Lacoste, for example, seemed to believe that any cartoon crocodile infringed their mark, which would mean nobody could draw crocodiles at all!
Lacoste logo by Bludgeoner86