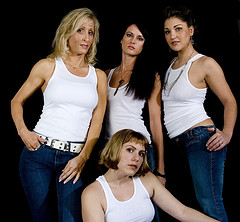 As summer approaches, women all over the UK will be despairing at the idea of giving up their loose wintry tops for the less-concealing T-shirt, but velieve it or not, every woman can look good in a T-shirt – here's how: 
Get the proper size – baggy T-shirts make you look as if you have something to hide and T-shirts that are too long have to be tucked in which is both unfashionable and unflattering

Choose a feminine cut. Try to find one that is shaped to the waist and a sleeve style that doesn't either cut in or flap around.

Pick a t-shirt made of good fabric. Cotton knit with a bit of stretch is the most popular, comfortable and airy for hot weather

Try new necklines – the boat neck suits those who are tall and thin while a V-neck T-shirt flatters those who may be short and plump by lengthening the neck

Use it as a layer by wearing scoop or round neck T-shirts with a blazer, smart jumper or larger V-neck T-shirt, alternatively, match V-neck T-shirts by layering them over vest tops or long-sleeved knit shirts for a casual look

Give a longer T-shirt style by dividing it with a wide belt, long chain or thin scarf knotted in front. If you don't have a curvy silhouette, let the belt sit low, resting on your hips to draw the eye away from your lack of waist.
T-shirts courtesy of fotodawg