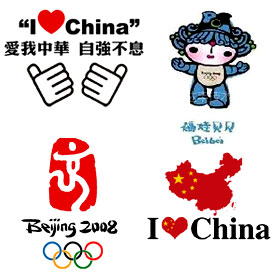 T-shirt logos from China
China has been forced to go through a lot of changes in recent months: first the New Year winter storms which disrupted the most important Chinese festival and prevented workers all over the country getting together with their families; then the bad press over Tibet; problems with the Olympic torch; a terrible train crash and finally a truly disastrous earthquake.  And interestingly, many urban Chinese have, for the first time adopted, or perhaps adapted, a Western behaviour to show their solidarity with their beleaguered country.
The first 'I Love China' T-shirts turned up in shops around the time that the Olympic Torch became a media issue.  Now people across the country are investing in shirts to show their love for China. It's a massive departure for a nation that used to dress only in Mao uniforms, and the new T-shirts – known as wenhuashan – allow the wearer to demonstrate their own personality and ideas.  Most have a fairly traditional appearance: being white, with red patterns. Some have a heart and a map of China, or China and the Beijing Olympic logo, or a heart with the Chinese National Flag.
But what makes these T-shirts special and unusual to Chinese eyes is that one line features all the Chinese surnames with a red heart, to show that all the people in China support the country.  There are actually only a hundred surnames, so they do just about fit on a T-shirt and the wearer can choose the shirt that has his or her family name highlighted – an element of individuality that seems to be both novel and highly appealing to the Chinese nation.