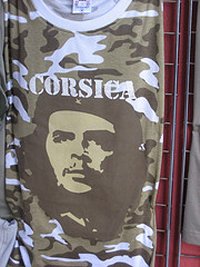 But not just any old T-shirt.  It was the elite troops of the Colombian Army who deceived the terrorist group 'Revolutionary Armed Forces of Colombia' (FARC) into handing over hostages who'd been kept in the jungle for nearly six years. And one of their tools was a Che Guevera T-shirt. 
The left wing terror group had become expert in kidnapping during its war with the Colombian state but Colombian Army members infiltrated the very highest levels of FARC and were able to bring a helicopter to a jungle rendezvous, claiming they were taking the hostages to an international meeting to show FARC's power.  The most senior member of the infiltration team spent nearly half an hour on the ground with the terrorists, laughing and joking, and clad in a Che Guevara T-shirt, which seems to have helped the FARC soldiers accept that he was 'one of them'.   
Once back in the air, the amazed hostages, including Ingrid Betancourt, a former candidate for President of Colombia who had been kept in isolation for over five years, were told their 'captors' were actually their rescuers.
Che courtesy of slavin fpo