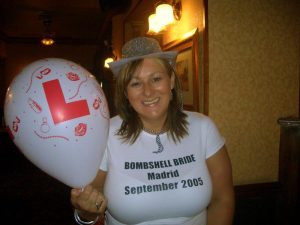 The tabloids have been splashed with shots of Jade Goody and her wedding, including the fact that poor hapless Jack Tweed left the shop label on the sole of his shoes. But it's not just Jade's bittersweet ceremony that has been big business. There's a roaring trade in paparazzi pictures of celebrity brides-to-be, especially if they are wearing kind of  Mrs  Pitt-In-Training T-shirt that, supposedly, Angelina Jolie sent an aide out to buy for her and her friends for her pre-wedding party.
Jack Tweed appeared for the photographers in women's underwear, as did all his stag night chums, but it's much more common for stags and hens to both invest in some fun casual clothing for their celebration night or weekend, and it's the fact that stag and hen events are now much more likely to be weekends than simply evenings out, that's driving the current craze for funny T-shirts and matching casual wear for the guys and gals who are out on the town.
A hen weekend is the perfect excuse for brides to get together with their oldest friends and long-time gossip partners, but because people live so far apart now, and have often moved away from school and college locations, wedding planning is like organising a major sporting event – you have to pick a weekend everybody is free and can get along, that doesn't clash with the wedding or celebration of somebody else in your social circle etc. It's no wonder wedding wear is becoming more of an investment, when you're putting so much time into make the whole event perfect.
Wedding hoodies, tees, and even underwear can be personalised with the name and wedding role of each participant: 'Helen – Head Bridesmaid' for example, or 'Don – Best Man's Understudy' or you can choose to display the name of the bride and groom and their wedding date in an elegant script, or you can pick some jokey slogan to emblazon on the clothing or even a photograph of the bride or groom at their best (or worst) to appear on sweatshirts that will be worn on the party night.
Mums and Dads can be a problem, especially if there are both parents and step-parents to accommodate, and this is one time where personalised casual clothing can really help – giving step-parents a T-shirt that thanks them for their contribution to the family is a lovely gesture and can stop them feeling left out. You can even have tiny tees printed with slogans suitable for the tiniest members of the family so that the baby bridesmaids and page-boys can have their own cute clothing too.