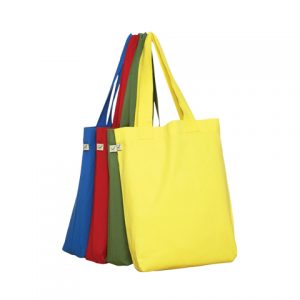 If you belong to any kind of trade body or association, or even just a networking group, you can use their meetings, especially trade shows, conferences and exhibitions, to promote your company in style.
The one thing that everybody takes away from these events, along with other people's business cards, mini-shampoo bottles from their hotel room, and a sheaf of expenses to claim, is a bag, and if your branded bag is the most stylish on offer, it's your bag that they will carry around with them for the next few months, maybe even for a year or more. For this reason, the return you make on investing in branded bags is superb.
Not only that, but whatever else people are handing out on the day, it will get put in your bag, so the bag is more valuable to the recipient than almost anything else they obtain.
Aim for the best quality bag or satchel you can afford, as durability is important and don't forget to get your company name, website and logo printed or embroidered onto both sides of the bag so that whichever way they face they are an advertisement for you. And here's a tip – if you have bags left over at the end of the show, offer them to the cleaning crew who clear up after the delegates are gone – these are people who go from business venue to business venue every week of the year, and they will carry your name with them, subconsciously informing people at other events about you, without you having to be present.