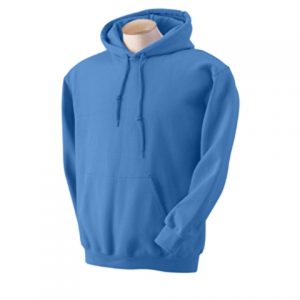 Perhaps it's because we're British, or perhaps it's because our weather is so rubbish, and perhaps those two things are actually identical, but this year, when retail sales and clothing purchases online have been pretty moribund, one thing is still walking out the door with incredible regularity: the hoodie.
It's the garment of choice of the chav (think of poor old Ricky Hatton) and hated by every judge in the country, but it's still one of the most popular items of clothing in the UK, and that's astonishing, given that it's also the most recent introduction into popular clothing culture – not since the T-shirt has anything had such an effect on the way young people dress.
So why is the hoodie so popular? Well one reason is that British weather that defines our character. A hoodie is a coat and a jumper in one – you can pull up the hood and protect yourself from a downpour by tucking your hands in the front pocket, or push up the sleeves and wear it with shorts to make the most of the British summer – it's the ideal clothing item for a country that can have all four seasons of weather in a single day.
The hoodie also looks good. It has a clean outline and works with something as casual as jeans or as smart as a good pair of formal trousers or a skirt. It can be worn to work, to the pub, to a cricket or football match or to meet the in-laws. It's casual clothing with extra style that works just as well as part of a working uniform as that classic choice, the polo-shirt. When personalised with a monogram or name it looks fantastic.  The hoodie is easy to wash and easy to pack. In short, it's a stylish life-saver.
So for 2009, whether it's the best or the worst summer ever, viva la hoodie!