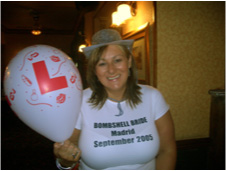 Where is the recession hitting hardest? Houses, cars and … weddings.
Sad but true. Today's bride and groom are having to count every penny and weigh every decision – is it best to spend X amount on the wedding or save some money on that expenditure and put it towards a future shared life?
The weekend flights to Berlin: off-road racing; paintballing and visiting lapdancing clubs type stag nights are looking less attractive to the lads, when a coach trip to Blackpool or Brighton, a fish and chip supper and a night touring the clubs can deliver the same adrenaline rush and hangover, for less than half the price.
And for the lasses on a hen night, the three day cruise with a night in Barcelona has given way to the train to town, an afternoon's spa pampering and a top musical, before dancing the night away.
Many couples are also choosing differently when it comes to their stag and hen night clothing. But it's a paradox. Where before they used to spend very little and go for throw-away clothing, now they are investing more in good quality T-shirts or even, for winter weddings, top-of-the-line sweatshirts for men, with elegant printing or even an embroidered monogram linking the bride and groom's initials.
The reason is simple – they want the stag and hen night T-shirts or sweatshirts to be a quality gift and a lasting memento of their great day. And their friends want to keep this clothing to remember the fantastic time they had, even if it was on a budget.