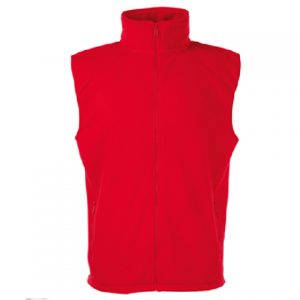 Fleece clothing has become the comfort blanket of choice for autumn wear. It's smart enough to be sported in the office, especially on Dress Down Friday but cozy and relaxing enough to be a real weekend favourite. It also works well in a range of colours, which can't be said for all clothing – anybody remember green denim? Exactly. But fleece is as wearable in black or charcoal grey as in the powder blues and soft pinks that women particularly enjoy.
Fleece is a fabric that is easy to wash and dry and packs beautifully, coming out of the suitcase without a crease – it's also a fantastic fabric to decorate and to use for promotional clothing because its light weight and simply styling make it suitable for both indoor and outdoor wear.
A sleeveless fleece offers a superb combination of warmth and protection, but it also provides long-lasting performance, so it's a brilliant choice for companies that have to watch the pennies as it can be on show throughout the year, is almost impossible to wear out or destroy, and is always popular with staff (or volunteers if you run a charity or club).
The sleeveless style of fleece is the first choice for people who need to have freedom of movement: sports coaches, drivers, delivery personnel and those working in shops selling bulky items all adore a fleece with a logo that can be worn over other uniform items.  Because the fleece section covers the torso it keeps the core muscles warm and relaxed and that means that the arms and legs tend to remain warm too because heat lost from the core muscles causes a deep chill in the rest of the body.