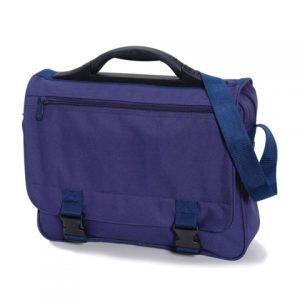 A personalised gift can help establish a new business relationship or cement an existing one. Because business relationships are based on recognition and trust, reminding people of your existence on a regular basis is a good way to build recognition, but if you add to that brand recognition by giving them a gift that has value to them and is attractive and durable, you also create trust because they feel they can have faith in you.
Personalised business items can be used as part of a marketing strategy that gives you a competitive advantage over your rivals because recognition is greater when related to you than to them. A bag with your company name and logo is a good start, and for key clients you can take it a stage further by adding their own initials or monogram to the bag to show that it's theirs and that you value them as an individual with whom you do business.
A quality bag also goes to build trust because it gets used on a regular, possibly a daily, basis and that means that not only does your client build a memory of you, but everybody with whom your client associates also sees the bag (and maybe asks about it) and is given a sales pitch about your company from this favoured client.
Bags are useful, practical and not too expensive, so you don't end up embarrassing the recipient. They are also ideal vehicles for creative branding because they are perfect for carrying slogans, logos and company information. The most elegant bags are embroidered, but a simple bag with good printing gives a great impression too.