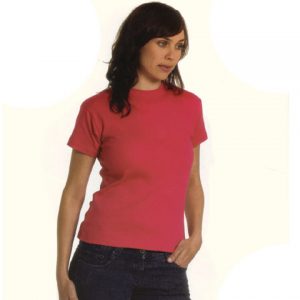 The psychology of colour has important implications for the business clothing that you choose.
Warm colours are associated with the sun and heat, while cool colours make us think of leaves, sea and sky. So an orange tie is 'sunny' while a blue tie is 'cool'.  But there are more complex equations to consider.
Warm colours seem closer to the eye than cool ones, so a person in a red T-shirt will stand out more than somebody in a white one. Red, orange and yellow all stimulate the senses and raise the blood pressure – so in a fast-moving environment, they can be good uniform choices as they encourage staff to feel on top of their jobs. Colours like blue, pale green and white are all calming, which explains why they are worn in hospitals!
So choosing uniform items can really influence both your staff and your customers – in a service centre, people on the front desk could wear a polo-shirt in orange or red to help them feel energised and able to cope with anything, while those dealing with customer complaints passed to them by the front desk could wear pale green or pale blue to give a calming effect to their words.
Black, while often popular in business clothing, is a negative colour. The eye passes over it. That's why you often don't notice the person who makes your coffee in the coffee-shop, more often than not they are wearing black! So while black can look practical, cool and youthful, it's not great for building brand awareness. White, on the other hand, looks clinical and efficient but not warm or friendly – and that's why the traditional uniform for waiters and waitresses is a white shirt and black trousers or skirt – it combines unobtrusive service with efficiency!
When choosing your uniform colour, think about what you want to project about your company, and how the colours will affect your staff, and you'll get a uniform that works for you, your team and your customers.