This week was the most difficult TweeShirt Friday to judge to date. We had so many great entries from a lot of funny people! Unfortunately not everyone could win, but for those of you who didn't, take some solice from the fact that our winner this week is actually a professional comedian!
Step up @TiernanDouieb , with your Tweet:

There were loads of entries that came close though, and a special mention must go out to @helenaimeej for her tweet that so nearly made it: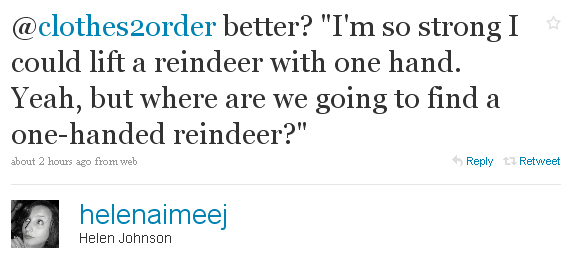 Thanks for the entry Helen!
Other Tweets that deserve special mention include:
@simonjenkins09: The only bad thing about Twitter is that you only get 140 characters in which to tell someone that they've sadly contracted
@robpatrick: I spammed all my twitter contacts for this shirt!
@graham__smith: I've seen Tiger Wood's wood
@helenaimeej: How long should a reindeer's legs be ? Just long enough to reach the ground!
and two more from our winner:
@TiernanDouieb: Astronauts are not as good as astroones or astrotwos.
@TiernanDouieb: miso soup = soup that tells you just how soup it is.
Thanks to everyone for tweeting and brightening up our Friday!
As a side note, we started this competition as a bit of fun, but a couple of people have now asked if they can buy their TweeShirt – Is this a service you would like us to look into developing?