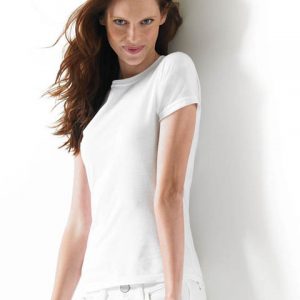 This week a trio of celebrities: choreographer Arlene Phillips, girlfriend of Arsenal star Theo Walcott – Melanie Slade, and fashion designer Tracey Boyd, revealed their take on classic white T-shirts.
Their designs are part of the Race for Life 2010 collection – raising money for Cancer Research UK. Always a summer wardrobe necessity the collection of white t-shirts comprises three very different styles which will earn money for the charity.
This kind of celebrity/charity tie-in is high profile, but it's easy for a small business to develop a similar public profile – why not ask a local school or design students from a local college to create a T-shirt for your staff to wear for a sales promotion? Run it like a TV competition, with T-shirt face-offs where the designs are modelled by local dance and drama students, and a voting system and involve the local press in publicising it. You can give the winning T-shirt designer a prize and make a donation to a local charity of their choice to further increase your public profile. Then get the most popular T-shirts printed and worn by your team, it's a positive investment in your business and a boost to local talent too.