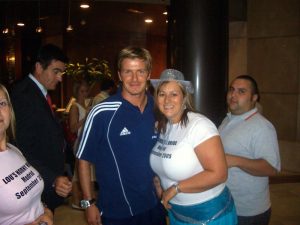 There's a fantastic range of ways to celebrate and commemorate family events with printed clothing:
1.    One increasingly common way of marking the arrival of a new baby, now that fewer people are christening their children in church, is to hold a naming day. Often this combines a family reunion with a party for the baby, and can be held outdoors. T-shirts are often printed for the family members, bearing the baby's name and date of birth and speeches are made, toasts drunk and the new arrival is celebrated with music and laughter.
2.    Another big hit with the parents of little ones is the way that party bags are being replaced by a piece of commemorative clothing such as a printed organic baby T-shirt which is given to guests at the end of a birthday party. For older children, a printed baseball cap is a popular leaving gift.
3.    T-shirts are also becoming popular as wedding clothing – gifts for bridesmaids, ushers, and ring-bearers are often now personalised printed garments with bearing their name and their role in the wedding as well as the date of the celebration. And of course stag and hen night T-shirts have become an institution in the UK.