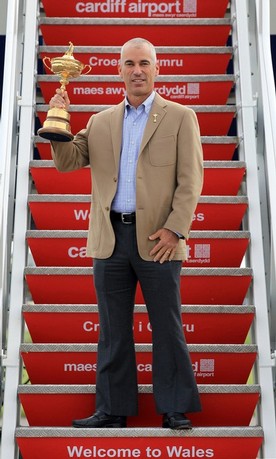 It is that time of the year again when golf gets exciting, or at the very least, as exciting as golf can get. Yes, the Ryder Cup is back and has taken Wales by storm. For those of you who have not had the pleasure of seeing the Ryder Cup a brief explanation may be in order. The Ryder Cup brings together the best plays from Europe and the United States to compete for golfing bragging rights. However golf is not the only thing that these two might teams have to compete over. With journalists writing about player's crazy trousers and appalling jumpers, fashion has become a hot topic in golf and remains so in the Ryder Cup.
It seems that although both teams have tried to impress with personalised clothes, team USA are going to be this years fashion failures. Even as they got off the plane, journalist pens were already slating the US teams choice of flairs and smoking jackets. 
They looked like granddads in Boxy jackets, Travolta trousers!
Aside from their failed attempt at a 70's flashback, team USA's playing wear has already been criticised as well. After being subjected to wet welsh weather, team USA had an embarrassing moment where they had to buy new rain suits from the merchandise tent during the delay. This was due to the fact that the ones they brought with them didn't keep them dry. Oh dear!
So what do you think of the teams efforts to impress with their clothes? Who deserves the title of Ryder Cup's best dressed?