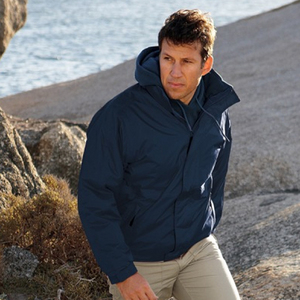 Some work clothing has Health and Safety implications – it has to meet the needs of staff who are exposed to the elements or work in difficult conditions. In these cases, High Visibility clothing allows the company, and the individual, to feel confident about safe working.  However, for many companies the chance to brand the outer clothing of their employees is not just about identification – it's a way to generate public awareness, build team identity and create opportunities to add to the company's profile.
Choosing the right jacket or fleece is important as it gives employees confidence in their appearance: it needs to be fully comfortable, easy to wear and smart. The logo and details you add to the jacket, whether it's embroidered or printed, is the final finishing touch that gives a jacket or fleece its professional appearance.
A tailored jacket for women looks fantastic and is specially designed to look good on the female form, while a more relaxed blouson-style jacket works well for a younger workforce in a more casual environment.
Detailing on a jacket can range from a discreet logo and telephone number or website address through to large images that showcase your business activity along with promotional details that encourage people to come and find out more from the wearer.
Perhaps the most famous promotional jackets are American: the letter jackets worn by High School athletes and the 'colours' worn by biker gangs – they both have instant recognition factor and carry a strong message to the viewer. This is why it's important to work with a good clothing printer to ensure that the message your clothing carries is more 'letter' than 'chapter' – printers and designers have experience in how people respond to images, colours and ideas, so calling on a reputable supplier of printed and embroidered clothing to help you put your brand jacket together is essential for maximum success.