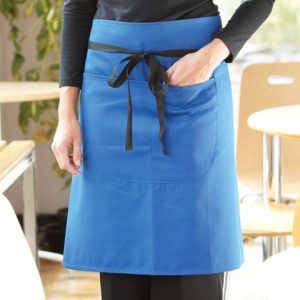 The hospitality industry is changing rapidly. HR Magazine says it now provides one in 15 jobs in the UK, and that over 7% of the working population are in the hospitality sector – it's also expected to be one of the largest growth areas for new employment in the next decade.
Uniforms for hospitality staff have changed as the sector has grown – polo-shirts and smart trousers have replaced button-through shirts as daywear in around a third of eating establishments and more than two-thirds of pubs and bars.
Even casinos are changing their clothing choices, opting for bright T-shirts under waistcoats for table-waiting staff and black uniforms for croupiers giving way to green, red or even purple as a corporate colour. It seems that these brighter colours are intended to create a 'point of difference', in allowing venues to differentiate themselves from other locations. Because they are still dark enough to take stains and spills in their stride, the green, red and purple shirts are proving popular with staff too.
Table staff are increasingly being given 'throwaway' clothing – ultra-bright T-shirts or vests overprinted with large messages about two-for-one cocktail prices, house specials, or special rates being offered at the attached hotel for lucky gamblers who've won big.

Aprons have become a big deal in up-scale dining, with pizza and flambé chefs who work at table being given special aprons, bearing their name, so that guests can specify which individual they wish to cook their food.