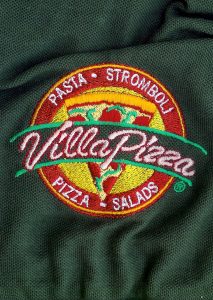 If promotional clothing does its job, it will become an heirloom – vintage T-shirts, retro fashion boiler suits and dresses, previously loved ties and bags, all these are desirable but fragile items. Modern promotional clothing may become the much-desired heirloom of the future, and knowing how to care for it can help you and your team enjoy your custom printed or embroidered work-wear, your team T-shirts or your on-tour hoodies.
Giving this information to your clients, either as a cute promotional leaflet or as a care page on your website, can have an unexpected bonus effect – it builds customer loyalty by showing that you have an ethical approach to making the most of the clothing you sell/provide.
• Washing – if your T-shirts are printed, always turn them inside out before washing and dry them on a line, inside out, not in a tumble dryer. This means that the printed image isn't constantly being rubbed up against other fabrics which can abrade it. Wash dark fabrics on the lowest possible temperature.
• Stains – salt is the best way to remove deodorant stains from dark clothing. Just wet the stain with cold water, pour salt onto it and gently press it into the stain. Next day, add about 2 tablespoons of salt to the wash water. To avoid these stains in the first place, apply deodorant the night before – it prevents damp and odour just the same, but it stops the aluminium in the deodorant getting onto the fabric. If you spill something oily on promotional clothing, soak the stain, as soon as possible, in pure washing up liquid – preferably an environmentally friendly one as it's less likely to contain bright pigments like blue or green that can actually tint the garment. Leave for an hour and then dip the stain in a small bowl of white vinegar and wash. Most oily stains will have completely disappeared.
• Pressing/Ironing – not everybody irons their T-shirts but most people iron, or have their shirts laundered – if your cotton shirts are monogrammed, it's best not to iron over the embroidery directly. Instead lay an old white pillowcase or tea-towel over the embroidered area and run the iron over that.