Saint George is celebrated by Anglican, Catholic and Orthodox Christians as well as many countries and cities of which St George is a patron saint. The date and celebrations differ across the world, but in England April the 23rd is the annual day to celebrate the Saint's Feast Day. St George is the patron saint of England, so traditionally it has been a day of celebrations and flag waving in England.
The 21st of April is Queen Elizabeth II birthday, although her official birthday celebrations take place in June as traditionally the weather has been better. With today being St George's Day, the anniversary of Shakespeare's birth and the Queen's birthday and London marathon last week here are a few of our favourite English and British inspired t-shirt designs.
Sports
In 2008 Umbro celebrated St George's Day by using a washing line of England football shirts as bunting across Carnaby Street in London.
Whilst Stella McCartney's designs for the Team GB Olympic and Paralympic sportswear incoporated the union jack off centre and the colours red white and blue to promote the team .
Flags
The Union Flag (commonly referred to as the Union Jack) was created in its earliest form in 1603 when James VI of Scotland inherited the English and Irish thrones  uniting the three. The flag we know today is a mix of Scottish flag of St Andrew, Irish flag of St Patrick and the English flag of St George.
Geri Halliwell spiced up the flag's reputation when she wore a dress (elongated vest) with the Spice Girls in 1997. Recently she has produced a fashion line with a less provocative version of the dress going on sale.
American actress and singer Willow Smith, Will Smith's daughter recently wore a stylish pair of union jack trousers at the UK premier Karate Kid which her brother starred in.
Keep Calm
There has been a recent resurgence in historical memorabilia and a revival of war-time spirit and celebration. 'Keep Calm and Carry On' was a British Ministry of Information propaganda poster created during the Second World War. The poster was intended to boost morale but was barely seen by the public and had little distribution. When it was found in 2000 it took off as a home decor symbol and was quickly printed across mugs, t-shirts, mouse mats and Britain couldn't get enough of it.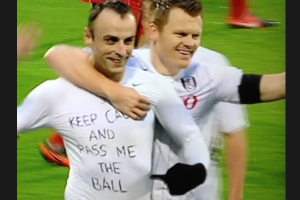 Last Boxing Day Bulgarian footballer and Fulham striker Dimitar Berbatov embraced his inner  Briton when he revealed a hand written Keep Calm motto reading 'Keep Calm and Pass Me the Ball'.
Weather
We like to talk about the weather, not just in England but across Britain. It would be nice if we were represented by a sun and not a rain cloud occasionally though.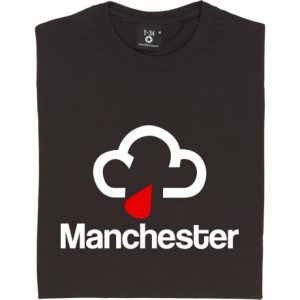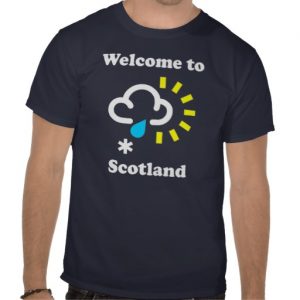 Monarchy
Love and loathed the British monarchy are a bit like another British staple marmite.
Revellers celebrate in customized t-shirts on the bank holiday in 2011 when Prince William and Kate Middleton got married.
Whilst anti wedding street parties took place with their own t-shirt customizations.
 Food and Drink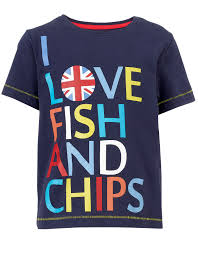 A staple for any Brit, or tourist visiting Britain. How would people cope without it?
Music man Mr Scruff has his own range of tea bags, tea t-shirts and tea towels.
What clothing says England or Britain to you? Let us know @Clothes2Order or our Facebook page