After Sir Alex Furguson announced his retirement last week the creativity of Manchester United fans began brewing as they wrote, drew, bought and created tributes to the manager of their team for the last 26 1/2 years.
Scarves and clackers have long been a fans way of sharing his or her admiration and support for a team but in recent years customised t-shirts have become synonymous not just with supporting a team by wearing their football strip but by commenting on social and political events within the sphere of football itself. It comes as no surprise then that so many of the tributes to Furguson were on t-shirts.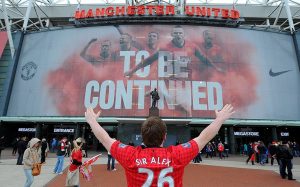 Yesterday the celebratory parade took place in Manchester for people to celebrate United's Premier League win and bid farewell to Sir Alex Furguson, unsurprisingly a mass of red and a fair few customized t-shirts were there amongst the revelers.
We thought we'd look back at some of the notable t-shirts from his past 26 years and 38 trophies whilst at the club.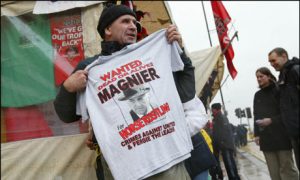 A controversial time in Ferguson's career came when his once pal Magnier disputed Ferguson's claim to the race horse he part owned 'Rock of Gibraltar'. This infiltrated Ferguson's football career as Magnier who owned 25% of Premiership champions with partner J.P McManus wrote letters to United suggesting Ferguson's contract should not be renewed.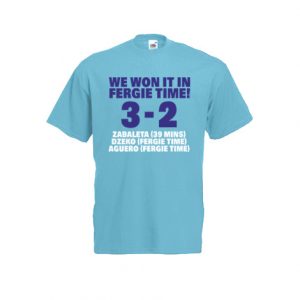 After Manchester City's win against city rivals Manchester United to secure the Premier League trophy in 2012 the City supporters rubbed salt into United's wounds by claiming it was Ferguson's habit of extra extra time which had helped them win it.
Rafael paid his own tribute to Ferguson by donning a personalised t-shirt saying 'Thank You' and showing a photo of himself with Ferguson.
The pair have a great relationship as Ferguson has stuck by the 22 year old Brazillian player who has had a great season. We think this personal touch amongst a team's good bye is very touching.
They say that today's news is tomorrow's fish and chip paper, however this t-shirt uses an image from a newspaper to memorialise and celebrates Oldham Athletic's 1-0 win against Manchester United in 1993. The t-shirt has added customization as it's been signed by the match goal scorer Niel Adams.
Commemorative t-shirts were bountiful at Sir Alex's Silver Jubilee at Manchester United just two years ago in 2011.
Only time will tell if new manager Moyes can earn the unwavering support of the United fans in the same was as Ferguson, but perhaps one day instead of t-shirt printing people will wear Moyes caps or jakets to show their appreciation.