The world of advertising has brought us some mind-boggling bursts of brilliance, but it has also brought us some of the most terrible, embarrassing, offensive and simply what were you thinking?! campaigns. We've put together here a list of our favourite top 8 most disastrous ad campaigns in the world that have cost businesses big bucks and a lot of headaches…
1. New Coke
Back in the 1980's, Coca-Cola was rapidly losing ground to Pepsi, which was the number 1 soft beverage of choice for customers. In 1985, to try and compete with the popularity of Pepsi, Coca-Cola launched a new product cal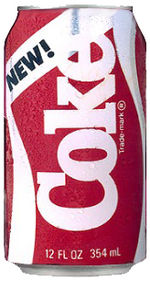 led "New Coke". It had a sweeter taste which delegates of blind taste tests preferred over the old Coke. In 1985, "New Coke" was launched to try and compete with the popularity of similarly sweet-tasting beverage Pepsi. However, it wasn't long after that the public started to complain that they missed the "old Coke", and the sentiments associated with it. Some even started to stock up on the original Coke in fear they would no longer be able to get hold of it. The Coca-Cola company soon realised the power that the old brand possessed and so only 3 months later, the old Coca-Cola was re-introduced to the market as Coca-Cola "Classic" which once again re-established itself as the market leader. The failed New Coke was later re-branded "Coke II", but it was soon dropped due to a lack of sales.
2. Diet Pepsi Skinny Can
You can't talk about the brief disaster of New Coke without mentioning Diet Pepsi Slim. In this case, it wasn't about a new taste that customers were unhappy with; it was the new packaging that people complained about. Launched during New York Fashion Week in 2011 and branded by the CMO of Pepsico as a "slim, attractive new can…the perfect complement to today's most stylish looks", it caused controversy with some members of the public and the National Eating Disorders Association who thought the new taller, slim design encouraged dangerous body-image stereotypes.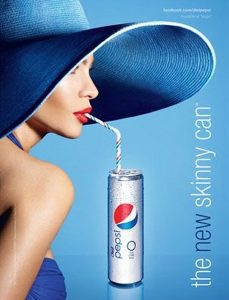 Just recently, Diet Coke has announced its plans to launch another new limited edition "sleek" can in October in the US, this time in collaboration with the singer Taylor Swift. However, even before the product has hit the shelves, there has been backlash from critics claiming the sleek can may send out the same sort of message that Diet Pepsi Skinny did to some of Swift's younger fans.
3. Virgin Mobile US
Virgin Mobile US' Christmas campaign last year featured an online ad depicting a man surprising a woman with a gift. The tagline was "Necklace? Or chloroform?" It received several complaints due to its alleged trivialisation of rape. Although Sir Richard Branson does not own Virgin Mobile US, he publicly condemned the advert saying it was "ill-judged". It was taken down from the site hours later.
4. YSL Belle d'Opium 
A televised advert for the YSL Belle D'Opium perfume was pulled in 2011 in the UK after the Advertising Standards Agency concluded it was "seen to simulate the effect of drugs on the body". The choreography of the advert shows a model drawing a finger down her inner arm, as if injecting herself and concludes with a voice over stating: "I am your addiction. I am Belle d'Opium". The choreography and the tag line combined was enough for the ASA to conclude that the advert should be banned.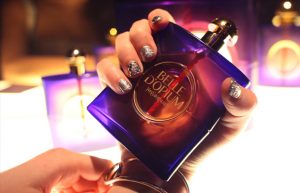 5. Paddy Power "Animal Cruelty"
In 2010, a televised advert in the UK by betting company Paddy Power sparked 1,313 complaints to the ASA, due to fears it could encourage animal cruelty. A cat is shown running onto a pitch of blind footballers, following which a player takes a kick. Despite its complaints, the ASA deemed it was unlikely to cause widespread offence and so the ad was kept.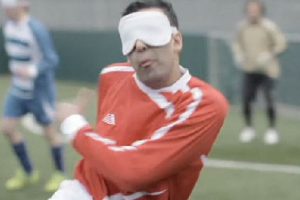 6. PlayStation Portable "White is Coming"
In 2006, a billboard advertisement in the Netherlands for the new white PSP showing a white model grasping the face of a black model was quickly withdrawn after it sparked complaints of racism. Although it was only supposed to be advertised in the Netherlands, the offensive ad was talked about globally after images of it went viral.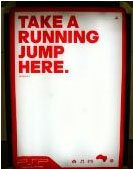 Other failed and risqué campaigns by PSP include a poster advertisement at several UK train stationplatfomrs in the same year which read "Take a Running Jump Here".  It was soon pulled as it was seen as a distasteful advert which sparked major safety concerns.
7. Phones 4u "Jesus" mobile phone advert
During Easter 2011, Phones 4u ran a campaign in the national press advertising deals on android phones. The ad featured an image of a cartoon-like Jesus winking and giving a thumbs up. It carried the tagline "Miraculous deals on Samsung Galaxy Android Phones". The ASA received almost 100 complaints and the ad was subsequently banned as the watchdog deemed that it "mocked and b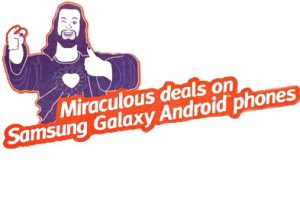 elittled" the Christian faith, especially since the ad ran during Easter.
8. Chevrolet's Chevy Nova
Last but not least, a disastrous advertising campaign myth. Between 1972 and 1978, Chevrolet advertised their latest product, the Chevy Nova to the Latin American market. Legend has it that since no va means doesn't go in Spanish, the product failed to attract interest causing it to be pulled from the market. In reality, the Chevy Nova did pretty well, especially in Venezuela. For a comparison, no va and nova are unlikely to be confused in the Spanish language, much like warrant and war rant are unlikely to be confused in English.
Do you know of any disastrous advertising failures that could be added to our top 8 list? Tweet us @clothes2order or leave us your comments below.