To celebrate the exciting launch of our new onesie range, we decided to have a look at just why this item of clothing has become so popular…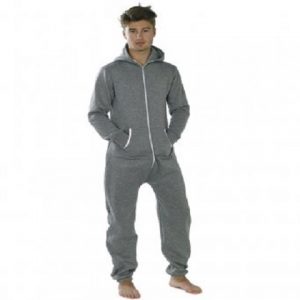 Over recent years, the onesie has matured from being associated with babygrows for infants to full fashion wear for adults: Yes, Christmas is now no longer complete without a onesie. Whether taking part in a onesie walk, wearing one to work for "Onesie Wednesday" to raise money for charity or wearing one to a wedding, the craze is yet to show any signs of fading away. This former fashion fad is now on its way to becoming a full fashion trend, following in the footsteps of other crazes which have gone on to find status as wardrobe staples, such as the Ugg Boot and the Snood.
Here we take a look at the rising star status of the onesie over recent years and what it is that makes it so popular…
The Siren Suit: the Original Onesie?
One could argue that the precursor to the onesie was not infant wear, but in fact an outfit called the siren suit which was allegedly created by Winston Churchill during World War II and designed to be worn as lounge wear. Despite this, he was frequently seen conducting high profile engagements in his siren suit. Thanks to Churchill, the siren suit went on to become extremely popular and, as its name suggests, was often worn in air-raid shelters when sirens went off as it was easy to put on and comfortable to wear for long periods of time.
The Modern Onesie
The term "onesies" used to be a brand name of infant bodysuits long before they became popular lounge wear. Then, in 2007, a group of Norwegian university friends decided to set up their own company selling adult onesies under the name OnePiece, which they brought to overseas markets including the UK. They soon became an instant hit with the likes of Justin Bieber and Rihanna thanks to their exclusive high prices. Originally dubbed the "adult onesie" by the press, the term soon became shortened to simply the "onesie" after its popularity grew and grew from being an alternative to pajamas to a fashionable garment which could potentially be worn out in public. Other companies soon started stocking the new garment at lower prices after more celebrities started wearing them and after they made frequent appearances on hit US TV shows. One Direction have even gone so far as to design their own range and the infamous Twitter "selfies" have seen a rise in celebrities posing in their onesies.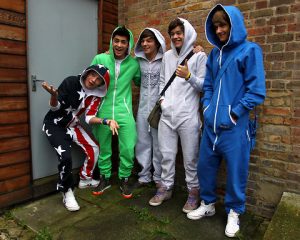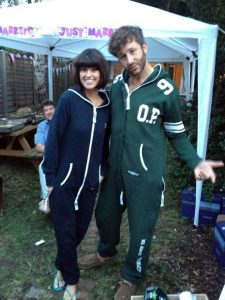 Following on from the success of the Norwegian export, Japan decided to pitch a modern twist on a national traditional style of costume to an international market: The Kigurumi. These animal inspired onsies which made there debut to the world in 2009 have seen their popularity grow and grow.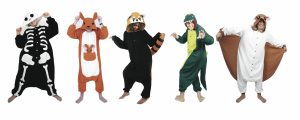 What's clear is that the onesie, far from being a fashion fad, has become a long-lasting warming wardrobe staple. What's become debatable, however, is whether the onesie should be kept as an indoor clothing to be worn in the comfort of your home, or like many popstars and actors have done, be worn as be a fashionable garment out in public.
What do you think of the onesie? Should it be kept hidden at home or is it acceptable to wear out in public? Leave your comment below or tweet us with your thoughts @Clothes2Order.