I've got this lovely new job and you know what it's like, being excited and nervous all at the same time… and I've only moved departments from customer services to marketing! Well, my name is Jade and part of my new role is to write the Clothes2Order blog. I'm pretty new to blogging (unless reading Bakerella counts) so bear with me, but I thought I'd start by introducing myself and some of the C2O office team.
Over the last 18 months we've grown from 25 to 70 people, so I'm going to break it down and start by introducing customer service, marketing, account managers, and the finance team.
Just look at this lot… I see these faces on a daily basis!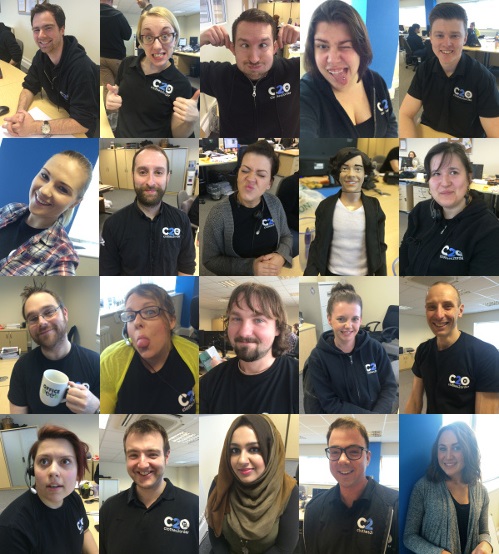 If you'd like to know more about some of the faces behind Clothes2order, here are some quick interesting facts about everybody in order of their photos:
– Simon: genuinely believes he could have been Mario Kart world champion & used to work for Nick Clegg
– Anna: plays the violin, speaks Spanish & used to live in Peru
– Jon: was a stunt man in the film Sophie's Fortune (& I think he looks a bit like Vector from Despicable Me)
– Me (Jade): travelled around Australia for 4 months (mainly living in a car) & is getting married in July
– Jamie: used to play National League basketball & has a black belt in Ju-Jitsu
– Alicia: does the jump splits when she's drunk, hates being called Alesha & has been on Radio 1 four times
– Paul H: plays the drums & used to run a record label
– Katy: has emotional eyes (she can't help but cry when other people do) & has an unusually large tongue
– Jim: was a Secret Santa gift & changes his outfit on Fridays, ready to party
– Lucie: has been backpacking in Australia, New Zealand, and South East Asia & isn't scared easily
– Steve: has traveled to Japan 3 times to watch wrestling & is a massive comic book geek with a tattoo inspired by Justice League and Transformers (he met his previous partner, of 4 years, on a Pokémon forum)
– Donna: loves to sing, she used to be in a band & was partial to a bit of drag racing when she was younger
– Charlie: dreams of being an author & has lived in England for 3 years
– Lauren: has a cheeky 3 year son & is a dangerous driver when he isn't in the car
– Paul S: at age 40, he was 22 stone, drank 40 units of alcohol a week and did zero exercise of any sort.  At age 46, he is 13.5 stone, doesn't drink, exercises for a minimum of 15 hours per week & on Sunday 13th September 2015 will represent Great Britain in the European Long Distance Triathlon Championship, a 2.4 mile swim, 112 mile bike ride, 26.2 mile run! WOW!
– Alex: has a MEGA loud cough like a seal & is a trained barista
– Jon: used to play rugby for York U19's and North Yorkshire and he once met Jonny Wilkinson at a tournament & he built his first website when he was 15. 18 years on, he's still happily working in the same field.
– Mev: can speak 5 languages & always comes to work in colour co-ordinated outfits
– Jonathan: used to be an amateur boxer & has spent the weekend at Dwight Yorke's house
– Emma: doesn't think she has ever lost an argument & used to get paid to do R-Kelly cornrows on the side
So that's us! Now if you call or you email, you'll know a little bit more about the people you're talking to 🙂
Please let me know what you thought of this post, (even if you thought it was naff) I'd like to know about it and I'll take constructive criticism on board.
Also, is there anything you'd like to read about in future? Let me know on Facebook or Twitter, or simply leave a comment here.