As a company, we've recently started eating more fruit, we even had a monthly reward of fruit baskets which went down a treat! We've got rid of our "emergency chocolate box" from the office to encourage staff to be healthier, and we've got a 'bike to work scheme' that came in to play earlier this month, which is both good for the environment, cutting down our carbon footprint, improve our health, and helps with the parking situation at the warehouse.
Paul Sellars is our operations director, he has been the main influence behind all of this health and fitness; he joined the company towards the end of last year, and the more I hear about everything he does, the more I'm interested so I thought I'd share it with the world!
In 2000 Paul had an incident of Atrial Fibrillation and as part of a week's stay in Warrington hospital he was electric shocked to get his heart back into rhythm. In 2004 the same thing happened in Tenerife, but this time he had intravenous drugs to reset the heart beat. In 2010 he had about 6 attacks in 6 months and ended up seeing a cardiac specialist who gave him 3 choices:
1) drugs with potentially life endangering side effects
2) an operation to scar part of his heart to stop it going out of rhythm, with life endangering side effects
3) stop drinking, change your diet and do some exercise.
He was actually considering these options whilst on holiday in France in the summer of 2010, when his heart went out of rhythm again, and that was that – decision made, to him life is more important than booze, cakes, biscuits, ice cream, chips etc.
When Paul and his family got home, he started to run a 3k loop – he says he stopped about 10 times on the way round for the first few times, and he watched his son disappear into the distance, running ahead of him.  Gradually he got fitter and got to a point where their home scales, that max out at 20 stone, started to register him! He then did his first competitive 10k run in September 2011 which took about 51 minutes, and his first triathlon was in Wilmslow in the summer of 2012.
Paul said "not drinking was the easy bit, and my wife (Ann) sorted the diet bit, making me healthy meals and keeping me away from trash…..it is probably 4 years since I ordered chips, although I have maintained a healthy relationship with chocolate, cake and biscuits throughout my journey!"
Between 2012 and September 2014 he entered several triathlons and long distance runs – Chester Marathon in 2013 and 2014, Barcelona Marathon in 2014, several standard and half iron triathlons, and then finally in September 2014 he achieved the ultimate goal of the full distance triathlon, finishing 7th in his age group.
This year the events that Paul is officially doing for charity are on his Just Giving page which can be accessed online at https://www.justgiving.com/Paul-Sellars1/  But he always ends up adding a few extras in, so in March he did an extra Duathlon and a 30k trail run in Delamere Forest which he won!
If you don't think that all of this is impressive, this Sunday he is expecting to do a 103 mile bike ride around North Wales and the big "extra" this year is the European Long Distance Triathlon Championships in Weymouth in September – this is the GB team event, and everybody at work is so proud of him that Michael Conway (the MD) even got a t-shirt made up with "Team Sellars" on it and a picture of a Union Jack.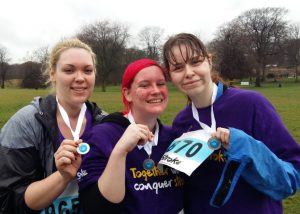 A few months ago, two members of our artwork department ran 5k to raise money for The Stroke Association; they managed to raise over £100 between them. They aren't usually the running types and it wasn't the best day for it, Charlotte says "that isn't sweat, it was the rain!"
This photograph was sprung on them during a monthly update, and of course congratulations is always encouraging and makes other people think how they could improve.
In terms of training, Paul's typical week goes like this:
Monday 6am – 152 lengths of the swimming pool – 3.8km
Monday 6pm – strength session in the gym
Tuesday 6am – 20km run into work (park the car on the trans Pennine trail)
Tuesday 5pm – 20km bike back to the car
Wednesday 6am – 50km bike into work
Wednesday 5pm – 50km bike home
Thursday 6am – 15km – 20km run
Friday 6am – 80 lengths of the swimming pool followed by strength session in the gym
Saturday 8am – 120km bike ride
Sunday 9am (lie in for him!) – 25km – 30km run
Most days he also does a 20 minute abdominal work out because "a strong core is essential in this game! I do mix things up a bit depending on the weather and up coming events, but that is the standard!"
So as you can see, most of his training is done instead of sleep (although he is lucky in that 6-7 hours sleep is enough for him thankfully).  He says he's "also lucky that my wife is massively supportive and also enjoys gym work too – so when I go out on Sat and Sun morning, she goes to the gym for the morning too.  I do try to keep a balance between work / home / training but that is a big challenge – hence why I try to take advantage of coming and going to work, rather than sitting in traffic on the motorway!!"
In 2007, Paul's dad died from Prostate Cancer, so until now, all of his charity work has been done in support of Prostate Cancer UK.
This photograph is of him after the Barcelona Marathon wearing a T-shirt that his daughter (Rachel) got designed for him with a picture of his dad on, and the Prostate logo on the back – "I still wear this for all pure running events just to raise awareness and keep my dad's memory alive!  Last year I raised £1200 for Prostate Cancer."
This man really is an inspiration, and I think his story is awesome. I know of a fair few people who are going to partake in the Bike To Work Scheme, and I myself will definitely be starting to do more exercise, and getting a vest printed just so I feel cool.
Are you doing anything fitness related to raise money for charity? Let us know on Twitter, Facebook, send us a picture on Instagram, or leave a message on here!
Glossary of Terms
Atrial Fibrillation – a situation where rogue electrical pulses make the top 2 chambers of your heart beat very fast (200ish bpm) and irregularly.  The bottom 2 chambers carry on as normal, so blood gets pushed through the heart leaving "ponding" in the lower chambers.  This ponding can lead to clots which when the heart rate returns to normal can be pushed out causing strokes etc .  You become completely knackered – even standing up is a major effort.  In the early days, the treatment was to use defibrillators to shock the heart back into rhythm, over time drugs have been developed to do it, but this takes longer to take effect – 2 days on average
Long Distance Triathlon – 2.4 mile swim, 112 mile bike ride, 26.2 mile run (generally swimming in the sea or big lakes)
Half Ironman Distance Triathlon – 21.2 mile swim, 56 mile bike ride, 13.1 mile run
Duathlon – run, bike, run format when the water is too cold! Generally 10k run, 40k bike, 5k run