The Story
Paws for thought
Dales Dog Walking is a professional dog walking service, focusing on human and canine interaction, covering the UK areas of Ingleton, Bentham, Burton in Lonsdale, Westhouse & Clapham in the UK. Always working outdoors, Angela Emms (owner of the business) wanted a vibrant and eye-catching uniform that "wouldn't be able to be missed" when she is walking around the Yorkshire Dales with her dogs.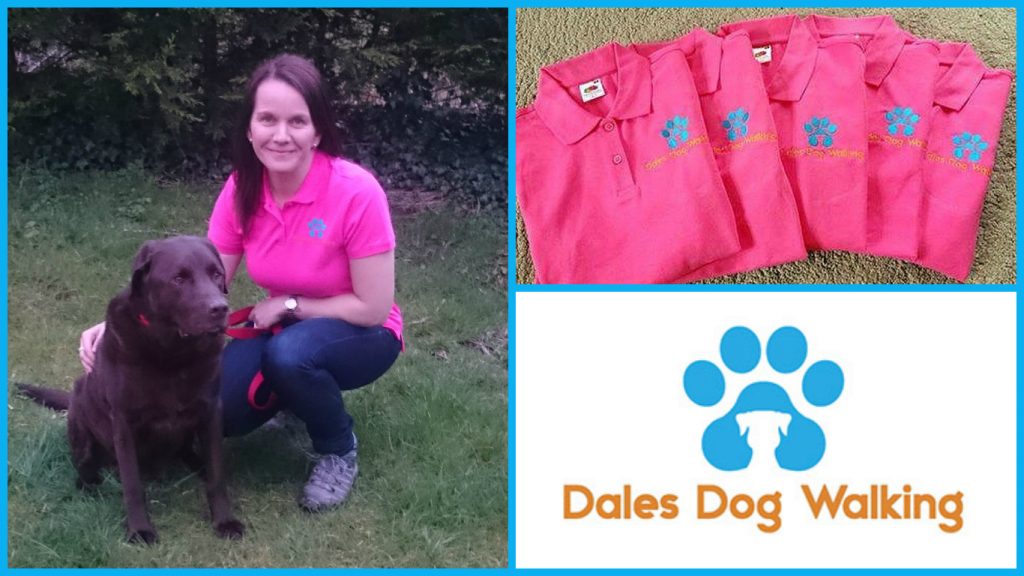 The Order
Choosing a new uniform
Dales Dog Walking chose our popular Fruit of the Loom Short Fit Ladies Polo Shirts, all featuring an embroidered paw design logo which allows Angela to be easily noticed and recognised whilst dog walking.
The Journey
Standing out from the crowd

Angela told us that she was "very happy with the colour match" to her logo that she provided – furthermore she said that the colour she chose for her polo shirts "went fantastically with the logo colours – so many people have commented on the colours!"
The Experience
Customer Support
Angela highlighted that she found the "process for ordering very easy" and that she was "kept up to date with the progress" of her order every step of the way. Furthermore she said that "it was so great to see a photo of my actual product when it was in production."
The Outcome
Highly recommended
Angela says of her new uniform: "I've had chance to wear my polo shirts & the quality is great – they feel really soft & fit as expected – the size guide on the website was useful for this. I can't wait for people to see me out & about in them – they will certainly spot me in these colours!"
"Great service & very happy with the product. Will definitely use Clothes2order again & will recommend to others."
Need uniform or want to refresh your existing workwear? Visit Clothes2order.com now to order. For enquiries or if you need help placing your order, please call us on 0800 012 2602.