RBS's event of talent, creativity and enthusiasm
The Royal Bank of Scotland recently hosted a weekend event called 'Hackathon', which brought together computer coders, designers and business consultants from across the UK in a competition to imagine, create and design innovative, new banking apps. RBS needed personalised embroidered unisex polo tees for all of the teams participating in the event, also including the mentors, judges and organisers, to help unite everyone involved in the spirit of the competition (despite there only being one winner!) and to make sure the whole weekend was extra special and memorable for everyone.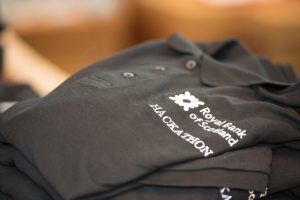 More on RBS's Hackathon event
Hackathon is RBS' biggest event of its kind that they have ever held, so we were delighted to have been asked to help the bank out to produce a large order of personalised t-shirts to help make the event unforgettable. Throughout the weekend, 20 teams battled to create new apps which would make the world of mobile banking a lot easier. One of RBS's Chief Executives, Les Metheson, expressed that he was thrilled that so many people participated and that he's really excited about the future of these events, because they allow RBS to "bring together small teams of people to test new ideas and think outside the normal constraints of every day office life."
Very little time in hand
Wincie Wong from RBS told us that the challenges that she faced before coming to place an order was that she had "very little time in hand" to acquire personalised t-shirts before the London Hackathon event. However, she thought that we had a positive "can-make-things-happen" attitude; with the promise of quick turnaround times – with our options of guaranteed 4 day or next day delivery – she thought it was a no-brainer to choose us.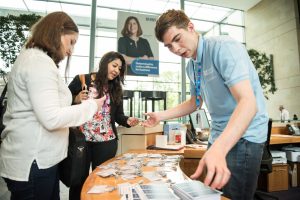 Amazing service, amazing quality
Wincie from RBS chose our bestselling Fruit of the Loom Poly/Cotton Polo Shirts, all personalised with embroidered Royal Bank of Scotland Hackathon logos on the front, with the official @bankofapis Hackathon Twitter handle embroidered on the back. She told us that she was over the moon that we:
Delivered her garments for the London Hackathon event in a really short lead time
We adjusted with last minute changes in order
Amazingly valued goods with high quality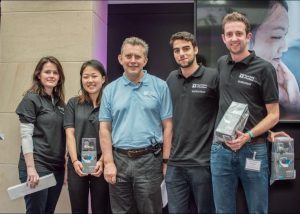 Need personalised clothing for your next big event or tradeshow? Visit Clothes2order.com now to order. For enquiries or if you need help placing your order, please call us on 0800 012 2602.