Over the past week, world-famous American rapper Kanye West has been causing quite a stir with his fans. He has been promoting his latest album 'The Life of Pablo', by launching temporary pop-up clothing shops across 21 cities around the world (giving only 24 hours notice for the announcement of each store) which are all open for only three days, selling t-shirts that are related to the new record.
Thousands of fans worldwide have been excitedly flocking to each store location, queuing overnight to have the opportunity to purchase one of the limited edition garments, with store rules such as: "you touch it, you buy it" and customers only being allowed to buy up to three items of any piece of clothing to avoid online reselling.
These regulations haven't seemed to bother shoppers, however not all of the fans are content with their new tees. After the opening of the first UK store in East London on Monday, Kanye West's British followers have called him out on social media accusing him of swindling, selling his own low cost t-shirts for a whopping £70.
After purchasing, Kanye's customers are inspecting the inside labels and realising that they are in fact buying Gildan Ultra Cotton T-Shirts, which at Clothes2order we sell blank from only £1.93. Evidentally, Kanye West has opened these stores and launched his clothing line so rapidly, he hasn't taken into account certain reseller conventions that would ensure customer satisfaction.
Here are our top 3 tips for selling your own merchandise that we've learnt from Kanye's clothing venture:
Sell your clothing at a reasonable price that you know your target audience can afford.
If you're going to sell a great value t-shirt for £70, take the time to remove the manufacturer's label first and add your own printed tag to create merchandise that looks and feels authentic and limited edition.
One good lesson we've learned from Kanye is that he's created a lot of demand and buzz surrounding his album – by limiting the amount of clothing pieces to 3 per customer and having the shops open for only 72 hours means customers are faced with an urgency that encourages a purchase.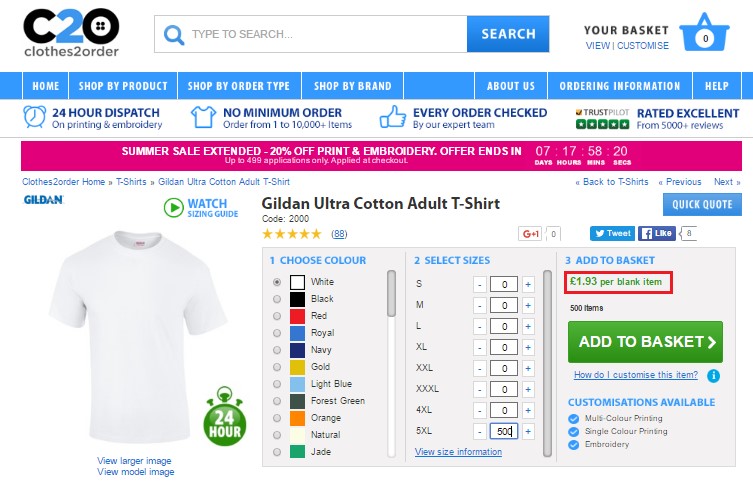 Here at Clothes2order, we can tell you that one printed Gildan Ultra Cotton T-Shirt with your logo would come to just £16.25 (inc. VAT). Or, if you're buying in bulk to resell (as Kanye has done), this would cost you a mere £4.14 per t-shirt. We love Gildan's T-Shirt and if you're selling your own merchandise, we would recommend selling this onto your fans or community for around £14.99-£19.99; at the end of the day it represents a great value budget T-Shirt.
If you want to sell your own printed t-shirts on to your fans or community, you can set up your own t-shirt store for free with us here.
Alas, Kanye West's name and reputation certainly has the standing to create a considerable mark-up on this price, nevertheless, his days as a merchandise seller are still in its infancy.
Please note! This article is by no means a suggestion for you to purchase Kanye West t-shirts from us…there are copyright laws that we would indeed be breaking. However if you'd like to create your own printed t-shirts, please check us out at www.clothes2order.com.