We've created this helpful guide full of tips to get the most out of your Clothes2order experience. It includes ways to get the most for your money and information about some services you may not know we offer…
---
The Best Price For You
Due to the large range of products and services we offer, we have lots of different prices available to you, therefore two simple ways you can get the most for your money is to to buy in bulk and also benefit from our free delivery thresholds.
Buy In Bulk
At Clothes2order, we offer quantity discounts on all of our products, meaning the more you buy, the lower the price of the individual garment. This is also the case for the application charges (the cost of transferring your digital design onto a garment), meaning applications on a higher volume of products will lower the cost of the individual application.
Free Delivery Thresholds 
We have set delivery prices for all our delivery options however our Economy and Standard delivery are free when you spend over a specified amount.
Economy delivery is estimated at 13 working days and priced at £4.00 but it is free when you spend over £40.00.
Standard Delivery is estimated at 7 working days and priced at £6.00 but is free when you spend over £150.00.
---
Getting The Best Print/Embroidery
There are two thing you can do to ensure you'll get the best quality print or embroidery on your finished product; upload the best quality artwork file and select the most appropriate garment for your artwork.
Artwork Files
It is important to upload the best artwork file to ensure the highest quality print or embroidery. We encourage customers to upload files that are 300 DPI (Dots Per Inch) or higher so the image will be clear and high quality, making it easier for our high tech machines to read when customising your garment. However, if you upload a low quality file, our expert team will contact you to discuss the best way to proceed so you will get the highest quality outcome.
We also accept a range of image types including jpg, jpeg, gif, bmp, ai, eps, ps, pdf, png, psd, svg, tigg and tif.
Take a look art our artwork guidelines to find out more.
Garment Type
The material of the garment you choose can also affect the quality of the embroidery or print produced. Here are the materials you need to look out for when choosing your garment:
For Print – Cotton, Poly-cotton products work best for print
For Embroidery – Cotton, Linen and Silk products work well for embroidery as they have a tight weave, meaning they're strong and durable.
---
Features You May Not Know About…
Printed Labels
Want your clothing branded? We offer printed labels on selected garments and you can choose this option at the customisation stage of your order. Although we can't remove the manufacturer label on your behalf, we can print your label on the inside neck position.  This service will cost £1 per label and requires no set up cost.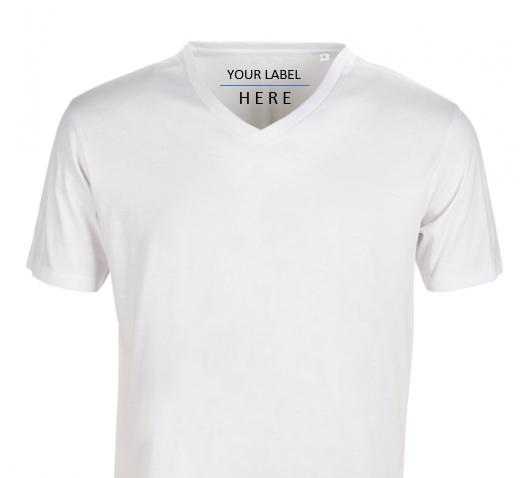 Gifting
If you're buying a product for a gift, you can select the gifting option at the customisation stage of your order. The free gifting option will allow you to remove the price from the invoice and also write a personal message for the recipient which will be shown on the invoice.
Names & Numbers
We can print names and numbers in a wide range of positions and size them correctly so they look the best they can! We charge £3.00 per item for a name or a number or £5.00 per item for both a name and a number. This service is available for print only, using high quality vinyl.
Individual Bags
Need your items packaged individually? We can do that for you! For an extra 50p per garment, we can individually package your garments in a clear poly bag and they'll still be sent in the same outer packaging so you only receive 1 delivery. This service is offered on a per order basis meaning you can't select to have some items individually bagged and others not.
---
Get Money Off Future Orders 
Earn money off your next order by referring us to a friend! All you have to do is share your personalised referral link with a friend who must spend £30 or more (excluding VAT & delivery). Once their order is dispatched, you will receive £10 account credit. To find out more and get your unique link, head over to our Refer a Friend page.
---
Talk To Us
If you have any questions about anything on our website, our award winning customer services team are available through live chat on our website Monday – Friday from 9am-5:30pm. Simply click the live chat option on the right hand side of the web page and one of our team will be available to help.