We can't believe the end of 2017 is in 11 days! This year seems to have gone so fast and it's been filled with so much that we thought we'd take a look back from some of our favourite moments from this year.
---
Employees
We've grown! Since the beginning of the year we've employed 22 new employees across various departments and we've also promoted 19 employees internally! Additionally, we've committed to providing English courses to all our employees who wish to take part. We currently have around 30 members of staff enrolled on the course.
---
Charity
We really enjoy fundraising throughout the year for many different causes and our staff always put in a tremendous effort with lot's of enthusiasm when it comes to raising money. One of our most memorable charity events this year was taking part in the Macmillan Coffee Morning in September. Our team generously donated money in exchange for sweet treats and we ended up raising around £400 for the charity.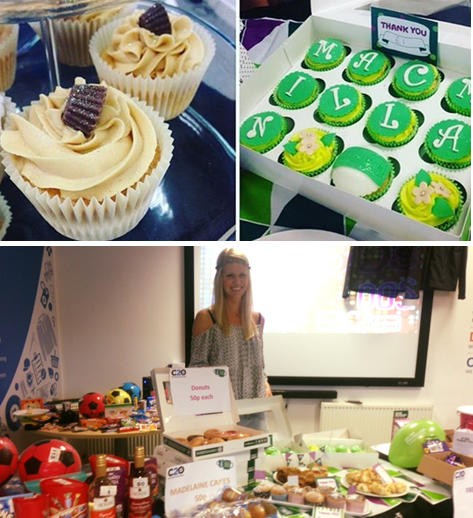 We were also extremely proud to be able to raise over £10,000 for the British Red Cross We Love Manchester Emergency Fund. This was done through selling the specially designed 'A City United' T-Shirts in the aftermath of the M.E.N Arena bombing. We would like to thank all of our customers who purchased the T-Shirt and helping to raise this incredible amount of money for all those affected.
---
New technology
This year, we've invested over £250k into new machinery in our DTG (Direct To Garment) department to ensure we can continue to print your clothing more quickly and to a higher quality than ever before. Innovation is one of our core values and we're proud to continue to invest in the latest and most environmentally friendly printing equipment available.
---
Pride Festival – Manchester
Our company is based in Manchester and we're very proud to call this city our home.  In August, we took part in the Manchester Pride Parade to show our support for the work of the Manchester Pride charity which campaigns for equality and challenges discrimination. Some of our team took part in the festival, which was attended by thousands! We think both the team and C2O float looked excellent.
---
Our Customers
One of our core values is customer focus –  it's one of the driving forces of our business. We're proud to say that this year, our customisation counter has greatly increased, reaching a total of 11,884,140 customisations since 2005.  We've carried out many customisations this year for lot's different customers. From big businesses to single garment orders – a  lot of care has gone into each customisation.
We love when customers send us pictures of their orders so we thought we'd share some our favorite customisations from the year.
---
2017 has been a great year for us and we can't wait to see whats in store for Clothes2Order in 2018!
From all of us, we'd like to wish you a merry Christmas and all the best for 2018.