Even though December is behind us and Christmas feels all but a distant memory, we're still left with the cold weather to deal. Though the dark mornings and dark nights are starting to fade, yet winter is still very much here so make sure you have the right garments in your work uniform to keep you warm for the remaining winter months.
Here are our winter essentials that you shouldn't miss…
Regatta Thor III Full Zip Fleece Jacket
This full zip fleece jacket from renowned outdoor brand Regatta is a great addition to any work uniform all year round but in the Winter months, it is definitely an essential. Made from fast drying polyester and with a great warmth to weight ratio, this fleece is the ideal choice for your winter workwear. The fabric also includes anti pill performance fabric meaning the fleece will last, even when worn regularly.

What our customers think:
"Useful zipped pockets on the outside and large deep pockets on the inside these are the perfect jackets for my business" -Ross B.

Russell Softshell Jacket
These Russell Softshell jackets are available for both men and women. Both jackets are water resistant up to 500mm as well as windproof. The lining of the jacket also contains bonded microfleece to ensure you're protected from the cold.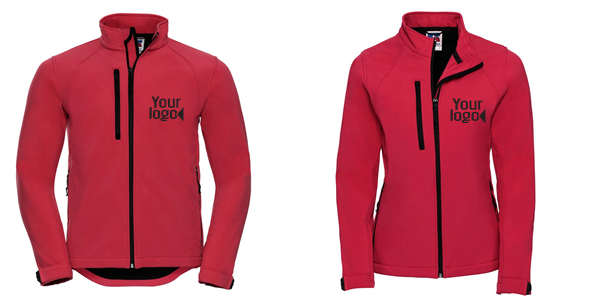 What our customers think:
"I knew this was a great jacket as I'd bought one before. I needed a second one with a new business logo. I've used this jacket out on professional photo shoots in all weather for the last couple of years and it keeps you dry, it's windproof too. Most of all it still looks as good as the day I bought. Very happy! :)" –  Jon C.

Yoko Hi-Vis Fleece Jacket
With the dark mornings and nights, you want to make sure you can be seen. This Yoko Hi-Vis fleece jacket encompasses two 3m scotchlite bands around the body, two around the arms and one brace over each shoulder which will ensure you're visible. The thermal fleece material will also keep you warm throughout the day. We would highly recommend this hi-vis fleece for outdoor work such as road maintenance, airport personnel, couriers and so on.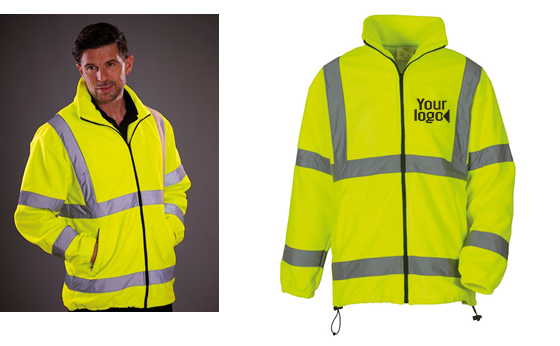 What our customers are saying:
"Good quality Hi-Vis Fleece, perfect for the colder months. Would definately purchase again. Could do with being Lined though!!"– Julie E.
2786 Padded Jacket
If you're looking for a warm hooded jacket, brand 2786 is the perfect choice! Available for both men and women, the 2786 padded jackets are water and wind resistant and contain a warm polyfil quilted lining with a fully lined hood. Get your logo embroidered onto these jackets for a smart, professional finish.

What our customers think:
 "A slim fit padded jacket that will keep you warm on these colds days. Very comfortable and good value – I'd happily recommend them" -Dave C.
B&C Bodywarmer
This padded bodywarmer is fantastic for layering. Available in white, black, red, navy and grey, the polyester padding and lining is designed to to keep you warm. Why not try layering this body warmer with one of our hoodies or sweatshirts?
What our customers think:
"Great quality looks good and fits as expected so I'm very happy." – Carl F.
Fruit of the Loom Raglan Sweatshirt
This sweatshirt is designed for your comfort and ease of movement and is therefore well suited to workwear. For the colder winter months, this sweatshirt would be ideal layered underneath our Russel Softshell Jacket or even our B&C bodywarmer.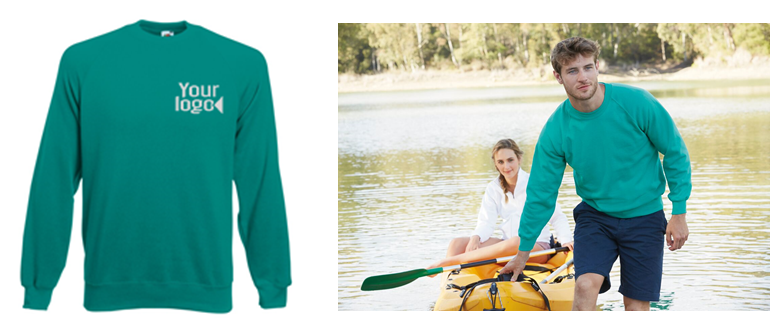 What our customers think:
"I ordered two Fruit Of The Loom Raglan Sweatshirts which I had embroidered to personalise for my husband. They are very good quality, good fit, look smart while being comfortable and the embroidery is just the right size to make them distinctive without being too obtrusive. They can be worn over a short or by themselves" -Margaret S.
Gildan Adult Hooded Sweatshirt
If you're looking for a hoodie to keep you warm, this hooded sweatshirt from Gildan is a definite winner. The hoodie is made up of air jet spun fabric which has been quarter turned in production, ensuring the fabric remains soft. Also, the double-lined hood is sure to keep you warm.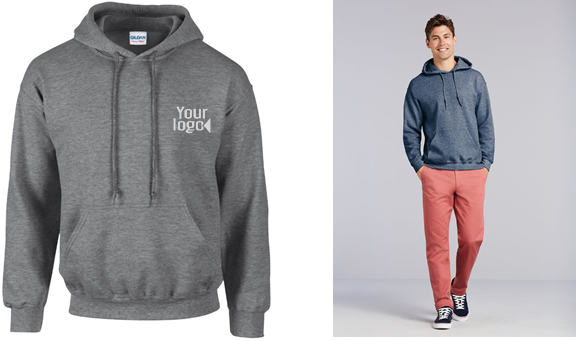 What our customers think:
"Great product, perfect colour, size & personalisation! Really pleased with my purchase"- Emma J.

Dickies Redhawk Action Trousers
Available for both men and women, these trousers can be purchased in either black, navy and grey. They would be most suited to uniforms for employees who are on the go or working outside. This is because the trousers contain knee pads and numerous handy sized pockets which are perfect for keeping utensils and tools in.
What our customers think:
"Bought several pairs of these for our events team as its impossible to use a handbag when at an event! Great pockets for mobile, lip salve and other girly items. Good fit and sturdy. Would recommend. Only wish they would come in plus size fit too as have a couple of larger ladies that have missed out." – Alison H.
Beechfield Snowstar Beanie
If you're working outside in the winter months, keep warm with a personalised hat. This beanie from Beechfield is stylish with its two tone pom pom and wide variety of colours, yet it is also practical with it's double layer knit, designed to keep you warm.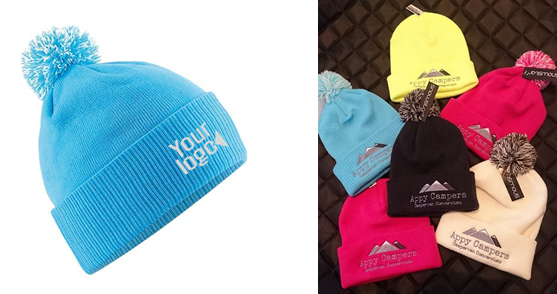 What our customers think:
"An excellent beanie – thick and warm. The surfer blue colour was vibrant and the bobble soft. Would definitely recommend!" – Eleanor G.