Have you ever wondered how we produce our prints? Below, you will discover all the different printing methods that are available at Clothes2order.
Direct To Garment Printing (DTG)
This is one of the most modern methods of printing and it's great for more detailed prints. With this type of printing, you are able to print in full colour very easily and you can print tonnes of different colours and halftones. Most Direct to Garment printing uses a CMYK ink system and others use six colour channels excluding white ink. These printers are best for those small orders of t-shirts. DTG printing prints on 100% cotton and some lightly coloured polyester shirts.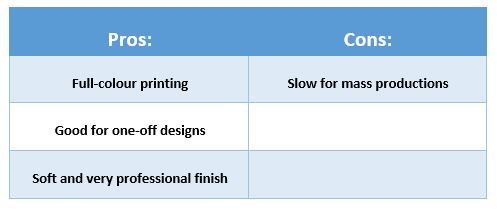 Vinyl Cut Printing
Vinyl printing, or Cad Cut, involves a computer-controlled blade that cuts the design out of vinyl. This type of printing is best for personalising names and numbers on sports kits, school clothes, and hoodies etc. It is also great for personalising high-visibility work clothes and other nylon fabrics and is great on Lycra or Spandex.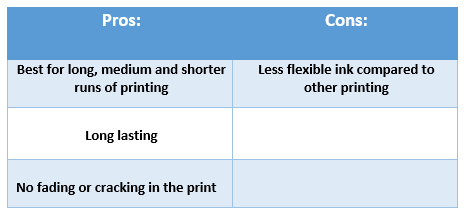 Screen Printing
Screen printing is one of the oldest methods of printing and is still used today because of its durability and simplicity. Screen printing uses special inks and there is wide variety to choose from such as high vibrancy and glow in the dark – it's thicker than water-based inks too. With screen printing, we can print on cotton and polyester.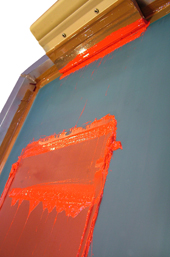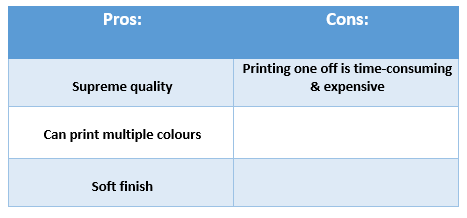 Screen Transfer Printing
This is where you transfer an image from one surface on another permanently. The design is printed on transfer paper and using a heat press machine it is transferred onto clothing. Transfer paper printing is fairly straight and it produces high-quality designs in full colour. This is great for specially-designed t-shirts.

Versacamm
This process involves using a versacamm printer to print a coloured design onto a sheet of vinyl with the the printer cutting around the design. The design is then manually cut out using a weeder and prepared for heat using application tape.  The design is then heat pressed onto the garment and the application tape removed once cool.  This is excellent for printing vibrant designs and high resolution images, for example photographs.
If you have any questions about our printing methods, please call us on 0800 0122602 or tweet us at       @clothes2order.